Setting Up Dynamic Behaviors¶
Many small stadium and arena customers would like the capability to produce simple lighting effects during events to increase the excitement and experience for their fans. With this new feature, sports lighting companies will now have the ability to offer their customers an easy way to add this to their installation. This licensed feature enables SimplySnap users to produce stunning lighting effects using dynamic behaviors.
To gain access to this feature customers will need to purchase the SimplySnap Dynamic Behaviors license and install the license on a gateway/CBS.
| | |
| --- | --- |
| | SimplySnap Dynamic Behavior license |
Key Capabilities¶
Dynamic Behaviors included in the license:
* Paparazzi
* Fast Paparazzi
* Sparkle
* Fast Sparkle
* Random
Sparkle: All lights in the zone randomly fade in and out.
Paparazzi: All lights in the zone emulate busy flash bulbs.
Random: All lights in the zone cycle through random levels.
Configuration¶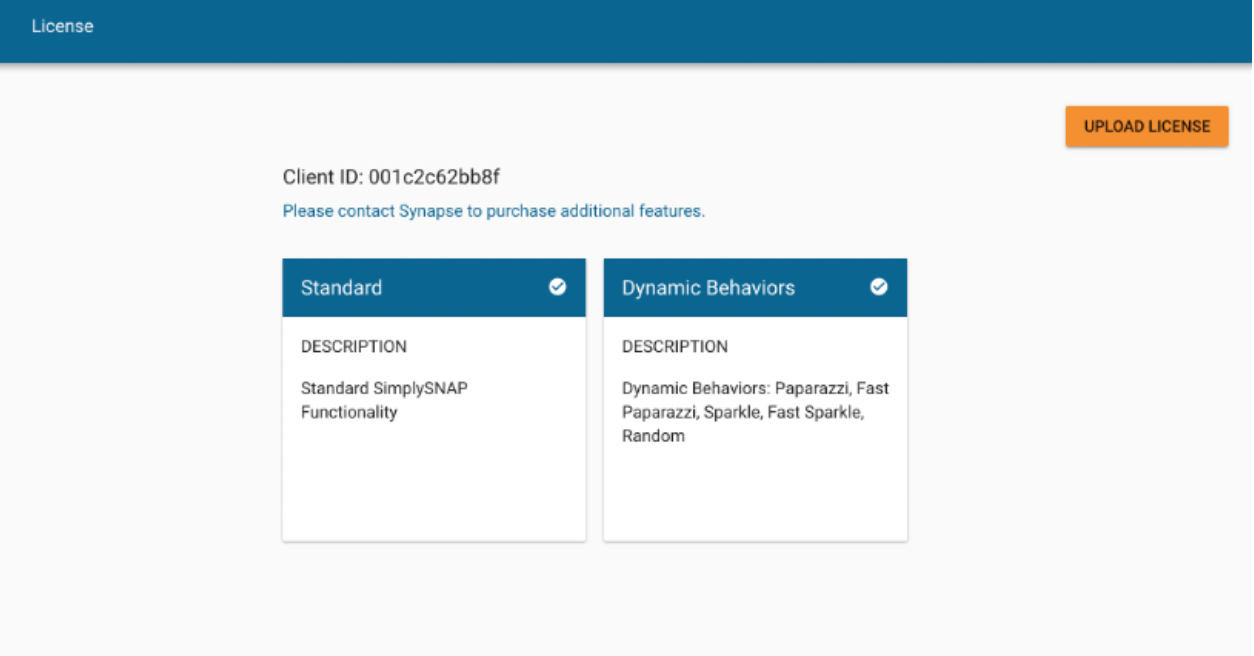 To create a Dynamic Behaviors, users will create a new Scene and choose one of the included Dynamic Behaviors from the drop down menu of behavior types. If the Sparkle or Paparazzi behaviors are selected, then the option will appear to select normal or fast speed.
To complete the configuration, the user will select which Control Zone(s) will be associated with this scene. When the Scene is applied all the lights in the associated control zones will start the Dynamic Behavior for that Scene. Users can apply a scene through the software user interface, a wireless wall switch or directly from the CBS front panel buttons.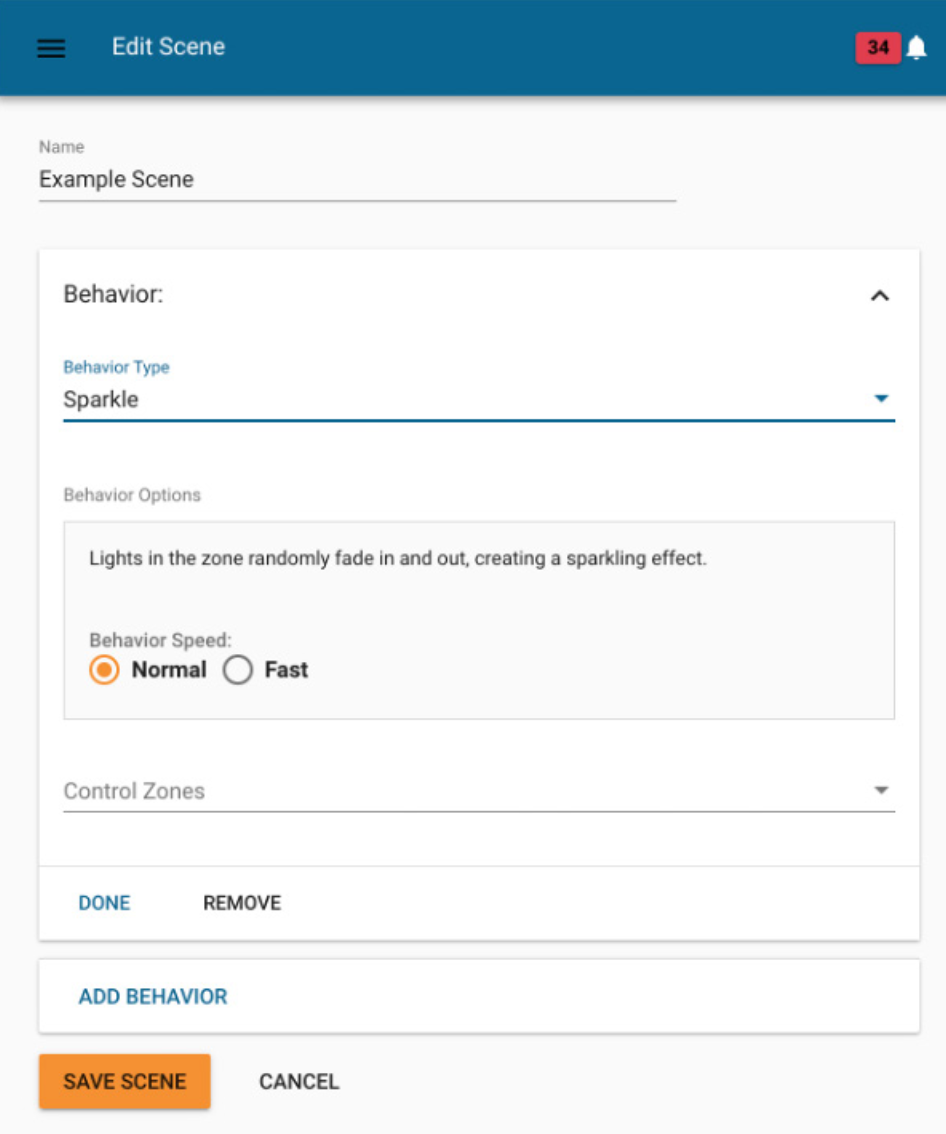 System Requirements¶
The Dynamic Behaviors license can be installed on the SS450-002 or CBSSW-450-002 gateways running SimplySnap version 10.2 or higher.
The messages sent from our gateway to our controllers are almost instantaneous and the messages sent from our controllers to the attached LED drivers are also extremely fast. Most drivers have a delay built in for dimming to allow a smooth transition when a dimming command is received. LED Drivers used for these Dynamic Behaviors must be capable of making changes to light levels extremely fast to properly deliver all the dimming commands sent from the gateway.
Lighting companies that want to offer this feature to end customers are expected to utilize a DIM10-087-06 type controller using 0-10V dimming with an Inventronics driver that includes "fast dimming"* capabilities or one with equivalent performance. See the table below for a list of recommended Inventronics drivers.
Note
If a different combination of controller and driver is used, it will be the responsibility of the fixture manufacturer to test the performance to ensure the solution meets customer expectations.
Watts

Driver Part Number

Includes Programmable

Slow/Fast Dimming Rate

75

EUD-075_DT

Yes

96

EUD-096_DTA

Yes

150

EUD-150_DTA

Yes

200

EUD-200_DTA

Yes

240

EUD-240_DTA

Yes

480

ESD-480_DT

Yes

480

EUD-480_DT

Yes

600

ESD-600_DT

Yes

600

EUD-600_DT

Yes

1200

EFD-1K2_DT

Yes
Note
The Inventronics "fast dimming" specifications are 70ms for dimming transitions and 300ms for off-to-on transitions. This capability is not the default setting on the drivers listed above and must be changed using the Inventronics configuration software during the programming and installation of the LED Driver.